Welcome to the Heritage Conference
Update - June 4
Schedule/Recent Scores-Results
Softball Semifinals Schedule (June 3):
PIAA Softball: (2A first round) Frazier 9, Marion Center 6 - The Heritage Conference 2018-19 sports year concludes.
Softball Semifinals Schedule (May 31):
District 6 Softball: (2A championship) Marion Center 4, Bishop McCort 2. CONGRATULATIONS TO THE STINGERS, DISTRICT CHAMPS!
Softball Semifinals Schedule (May 24):
District 6 Softball: (2A) Bishop McCort 9, Northern Cambria 8
Baseball/Softball Semifinals Schedule (May 23):
District 6 Baseball: (2A) West Shamokin 12, Homer Center 9. Softball: (3A) Chestnut Ridge 7, Ligonier Valley 1; (2A) Marion Center 3, Southern Huntingdon 2
Baseball/Softball Quarterfinals Scores (May 20):
District 6 Baseball: (3A) Mount Union  9  Ligonier Valley  2; (2A) Homer Center  5  Portage  3; West Shamokin  12  Northern Cambria  2; (1A) Saint Joseph  11  Saltsburg 4. Softball: (3A) Ligonier Valley 9, Central 8 (10 innings); (2A) Southern Huntingdon 10, Blairsville 0 (5 innings); Marion Center 9, Bellwood-Antis 3; Bishop McCort 15, United 0 (4 innings); (1A) Conemaugh Valley 7, Penns Manor 3
News
Ligonier Valley wins baseball, softball championships (May 15):
It was a big day Wednesday for the Ligonier Valley Rams, as they defeated West Shamokin in baseball, 4-2, for the conference baseball championship and beat Marion Center, 8-4, for the softball championship. Hear the audio recaps of the game at WCCSradio.com.
Conference moves baseball/softball championships (May 13):
The Heritage Conference has moved the baseball and softball championship games to Wednesday (May 15) because of inclement weather. The baseball game has Ligonier Valley vs. West Shamonkin in Homer City on WCCS AM 1160 and 101.1 FM, while the softball game pits Ligonier Valley playing host to Marion Center on Cat Country 106.3 FM. Both games are slated for 7 p.m. with 6:45 pm airtimes.
Conference Track and Field Championship Results (May 7):
The Heritage Conference held its track and field championship meet on Tuesday, May 7th. See this link for full results.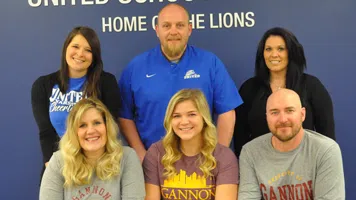 United's Regan signs with Gannon (May 1):
United's Regan Tomalson signed to continue her competitive cheerleading career at Gannon University. In the photo, first row, L to R, is Kristalee Tomalson, mother; Regan Tomalson; Michael Tomalson, father. Second row, L to R, Jocelyn Hudson, Assistant Coach; Cullen Stokes, Athletic Director; Jennifer Charney, Head Coach.
Conference Baseball Championship Game Set (April 9):
The Heritage Conference baseball championship game has been set for Monday, May 13 at First Commonwealth Bank Field in Homer City at 7:00 pm. In other baseball/softball news, the annual Teddy Bear Fund Drive Softball and Baseball game between Indiana and Homer Center will be Saturday, April 20th at First Commonwealth Bank Field.
Winter Sports All-Conference Teams Released (March 28):
The Heritage Conference announced its All-Conference teams for boys' basketball, girls' basketball, wrestling, and cheerleading on Thursday.
Boys Basketball Ligonier Valley - Marrek Paola and Michael Marinchak Blairsville - Adam Ratkus Homer Center - Tanner Yancy Marion Center - Conner Fairman Northern Cambria - Logan Yonkoske Penns Manor - Tommy Hamilton Purchase Line - Dominique Campbell Saltsburg - Josh Gibbons United- Collin Moore West Shamokin - Carson Dewitt
Girls Basketball Penns Manor - Autumn Fennell and Abby Tomayko Blairsville - Sidney McCully Homer Center - Marlee Kochman Ligonier Valley - Alexia Boyd Marion Center - Jackie Fetsko Northern Cambria - Nicole Bearer Purchase Line - Emileigh Syster Saltsburg - Jenna Beitel United - Maizee Fry West Shamokin - Abby Oesterling
Wrestling Blairsville - Garrett Henigin and Jack Bruce Marion Center - Marvin Beatty, Gavin Stewart Ligonier Valley - Ryan Harbert United - Marc McCullough
Cheerleading Saltsburg - Madison Prenni and Courtney Battistelli United - Grace Eritano and Erin Nagle Blairsville - Kourtney Horchar Homer Center - Zoe Renz Ligonier Valley - Lexie Ambrose Marion Center - Koral Smith Northern Cambria - Taylor Lecorchick Penns Manor - Katie Offman Purchase Line - Marley Rearick West Shamokin - Carlie Palmo
Selection Process - The Heritage Conference recognizes these individuals who have qualified for the P.I.A.A. State Meet or have been selected by their school. Each school sets it own criteria for selection.
Heritage Conference Academic Competitions (March 22):
The following are the results for the Heritage Conference academics competitions recently held by the conference. Congratulations to co-champions Marion Center and Ligonier Valley.
PIAA Playoffs Games (March 9):
A Girls
Tussey Mountain 56, Purchase Line 38
AAA Boys
Beaver Falls 84, Ligonier Valley 68

AA Boys
Serra Catholic 79, Penns Manor 44
PIAA Playoffs Games (March 8):
AA Girls
Our Lady of Sacred Heart 63, Blairsville 43
Brentwood 53, Penns Manor 38
District 6 Playoffs Games (Week of Feb. 18-22):
Wednesday, February 27
Girls 1A Championship - Bishop Carroll 66, Purchase Line 23
Girls 2A Consolation - Penns Manor 60, Blairsville 49
Boys 2A Consolation - Bishop McCort 68, Penns Manor 51
Friday, March 1
Boys 3A Championship - Richland 68, Ligonier Valley 64
Tuesday, February 26
Boys 3A Semifinal - Ligonier 65, Bellwood-Antis 45
Appalachian Conference Basketball Championships (Feb. 8):
Girls: Penns Manor 51, Blairsville 41
Boys: Ligonier Valley 66, West Shamokin 42
News
Two Lions Sign Letters to Play College Football (Feb. 14):
The United Lions went all the way to the District 6 A championship game last fall and now two of their standouts have signed to play college football. At a ceremony Thursday at United High School, Mason Muir signed to play football at Grove City and Joe Turek signed to play football at Lock Haven. Read more here.
Ligonier Valley, Penns Manor wins Basketball Championships (Feb. 8):
The Penn Manor Comets defeated the Blairsville Bobcats, 51-41, to win the conference championship and end the Road to the KCAC (presented by S&T Bank) on the girls' side. Blairsville led, 10-5, after one quarter, but Penns Manor outscored the Bobcats, 17-9 and 17-11, in the second and third quarters, respectively.Abby Tomayko led Penns Manor with 15 points, as the Comets made eight 3-points shots. Lauren Bagley scored 12 points and Autumn Fennell finished with 11 points. Blairsville's Sidney McCully scored 12 points to lead Blairsville and Caitlin Walbeck added 11.
In the boys game, Ligonier Valley prevailed, 66-42, in a battle with the West Shamokin Wolves. The Wolves jumped out to a 4-0 lead to start the game, but the Rams answered with an 8-0 run and never trailed again. They held a 26-14 lead at the half and put 18 points on the board in the third quarter. Marrek Paola scored 31 points for the Rams. The Rams repeated as champions.
Fall All-Conference Teams Announced (Jan. 4):
The Heriitage Conference released its all-conference teams for the 2018 fall season today. Click here to see the full teams.
United loses to Juniata Valley in District 6A championship (Nov. 23):
The United Lions ended their season in the District 6A championship game with a loss to Juniata Valley, 36-20. Hunter Cameron rushed for 135 yards and touchdown in the loss.
Ligonier Valley wins third straight Appalachian Bowl (Oct. 27):
The Ligonier Valley Rams defeated Shade 45-8 for their third consecutive Appalachian Conference championship. Kyrie Miller rushed for two touchdowns and Cage Dowden caught two touchdown passes.
Purchase Line vs United Moved to Indiana (Oct. 19):
This Friday, November 2, the District 6 football playoff game between United and Purchase Line will now be played at Indiana High Schools' Kuzneski Field, which has an artificial surface. The move comes as the weather forecast calls for rain on Wednesday, Thursday and Friday, and the playing surface at United's Thomas J. Madill Field could be very muddy by Friday. Game time is still 7 p.m. The game can be heard on U92.5 FM and streaming on the TribLive High School Sports Network from U92radio.com. Airtime is 6:15 p.m.
Ligonier Valley dominates Heritage football season (Oct. 19):
The Ligonier Valley Rams clinced their third straight Heritage Conference championship with a 49-6 win over Northern Cambria on Oct. 12, then beat Blairsville by the same score to secure a third straight season undefeated in the conference. The Rams take on Shade on Saturday, Oct. 27 in the Appalachian Bowl.
Heritage Conference Cross Country Championship (Oct. 18):
The Marion Center boys and girls repeated as Heritage Conference cross country team champions Thursday, and for the girls, it was their 18th team championship. Marion Center junior Hunter Armstrong repeated as the boys' individual championship with a time of 17:28.5. Marion Center freshman Nevada Armstrong, at 20:19.0, unseated last year's champion, teammate MacKenzie Walker, who finished second. Penns Manor and Purchase Line finished second and third, respectively, in the girls' race. United and West Shamokin took second and third, respectively, in the boys' race.
Heritage Conference Golf Championship (Sept. 19):
Ligonier Valley won the conference golf championship by one stroke with a score fo 430, followed by West Shamokin (431), Northern Cambria (442), Homer-Center (443), Saltsburg (537) and Blairsville (554).
All-Conference honors went to (Boys) Chris Ober of Homer-Center (75), Tanner Pershing of Northern Cambria (77), Nate Zik of West Shamokin (81), Jon Rankin of Ligonier Valley (81), Collin Moore of United (85) and Eric Spencer of West Shamokin (85), and (Girls) Kendra Pecora of Ligonier Valley (85), Molly Sisitki of Blairsville (112), Macey Davison of Northern Cambria (112), Blake Tonkin of Blairsville (115), Hannah Muir of Saltsburg (122) and Maddy Pierce of Ligonier Valley (122).
Heritage Conference/WestPAC Challenge Renewed (Sept. 14):
The Heritage Conference and West Pac announce the Heritage Conference-West Pac Challenge presented by First Commonwealth Bank is back for the third consecutive year.
The crossover games will be hosted by the West Pac and will be played Friday, October 26. The Heritage-West Pac Challenge culminates with the Appalachian Bowl Championship Game between the champions of each league on Saturday, October 27 at Windber Stadium at 7:00 pm.
Heritage Conference/WestPAC Football Media Day (Aug. 3):
Video Previews of the Upcoming Season - Blairsville players; Homer-Center coaches; Ligonier Valley's Roger Beitel; Ligonier Valley players; Marion Center's Adam Rising; Marion Center players; Northern Cambria's Sam Shutty; Northern Cambria players; Penns Manor's Bill Packer; Penns Manor players; Purchase Line's Matt Falisec; Saltsburg's Mike Leasure; Saltsburg players; United's Kevin Marabito; West Shamokin's Jon McCullough
Our Member Schools

Blairsville

Homer-Center

Ligonier Valley

Marion Center

Northern Cambria

Penns Manor

Purchase Line

Saltsburg

United

West Shamokin